Gynecologist

Why see a gynecologist?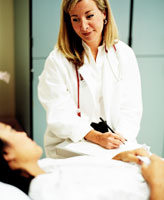 Going to see a gynecologist — a doctor who focuses on women's reproductive health — means you're taking responsibility for your body in new ways. It can be very exciting to know you're making sure all is going well with puberty, your reproductive system, and more.
Keep in mind that other doctors also can help with gynecological issues. For example, an adolescent medicine specialist, family doctor, or pediatrician can answer questions and may be able to examine your vagina, too.
Of course, it can be stressful to deal with a whole new type of doctor's visit, but learning more can help you know what to expect